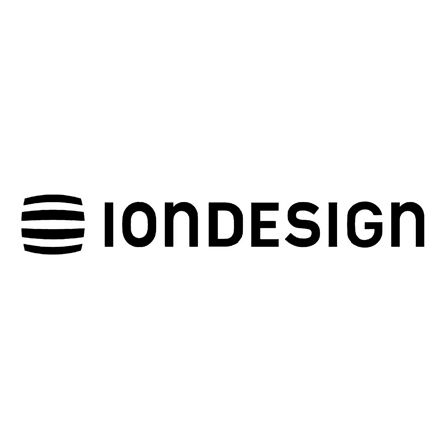 IONDESIGN GmbH
Business
Consumer Goods
Culture and Creative Industries
Healthcare, Medical Technology and Social Services
Information and Communications Technology
Mobility, Logistics and Transport
Producer Goods, Machine and Precision Engineering
Research, Teaching and Development
Trade and Fairs
Type of Design
Architecture
Communication and Graphic Design
Corporate Design
Design Strategy and Brand Consulting
Exhibition, Fair and Event Design
Interior Design
Packaging Design
Product and Industrial Design
Transportation Design
Universal Design
Services and specializations
IONDESIGN is the studio for 3-dimensional design, founded by Anja Götz and Christoph Fleckenstein in 1993 in Berlin. Today 7 designers and architects are working for clients in Germany and Europe. Our work spreads across disciplines and connects interior, graphic / web, product, packaging, public, exhibition design and architecture.
Description
"The content determines the form" is the motto.
IONDESIGN aims at the utility of the product and not the formalistic style.
In close collaboration with the client and other project participants the base is defined and is used as the focal point of our work. During the intensive development period, all angles and problems are discussed and viewed with the aim to find finally the perfect solution.
Our aim is to find a global and all-embracing solution instead of just designing one single product. By following our motto, that utility leads the design process, we are able to create successful and useful objects, which include all ergonomic, technical, economical and aesthetic angles. We call it "The ION-Way of Thinking". There are no borders between the disciplines.
Our work has been exhibited on a national and international level and several projects received numerous national and international awards, e.g. RedDot, iF and nominations for the "Design Award of the Federal Republic of Germany", the GOOD DESIGN Award of Japan, the Good Design Award of the Chicago Athenaeum and the inclusion in the permanent collection of the renowned DESIGN MUSEUM in London.
Customers
Kamei

Burmester

Galerie Brusberg

Hamburg Wasser

Valli&Valli

Wall AG

Herlitz

White&Case

MTV Music Television

Telekom

KRAFT

Konrad-Adenauer-Stiftung

Axel Springer

Audi

Aimaq Rapp Stolle

Somatex

ALESSI

Die Draussenwerber

Titanic Comfort Mitte

GSG Berlin

Falling Walls Conference

Moldex

Harry-Graf-Kessler-Gesellschaft

Miele

Berlin Heart

selux

Hammonds

Vattenfall

Scan Coin

BMH Bräutigam

Stenner Partnerschaft Rechtsanwälte

Krause&Kollegen

Askania

B&B Recycling

nextbike

Hoffmann's Dental

Morrison Foerster

il circolo

Luther Rechtsanwälte

HK2 Rechtsanwälte
Address
ion@iondesign.de
www.iondesign.de




Contacts
only visible for members
go back