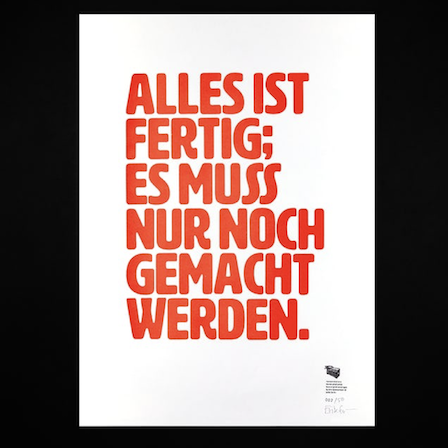 p98a has a large repertoire of wonderful printed materials, we chose a poster here.

Alles ist fertig; es muss nur noch gemacht werden.
Printed on MetaPaper Rough Warm White 160 gsm in Pantone Day-Glo ink. From original wood type (16 cicero HWT Artz, designed by Erik Spiekermann) on a Korrex Berlin-Spezial-Kraft, 50×70 cm. The 50 posters each are num­bered and signed by Erik Spiek­er­mann.
Due to analog printing, minimal deviations may occur. These are not flaws but make each product unique. As a handmade product, it is never an identical replica of the picture.

98,00€ available at www.p98a.com
p98a is an experimental letterpress workshop in Berlin dedicated to letters, printing and paper. We are a group of multi-disciplined designers, exploring how letterpress can be redefined in the 21st century through research, printing, collecting, publishing and making things. We work with hot metal- and wood-type, several proof presses, two Boston Platen Press and other traditional analogue equipment, and combine those with digital technologies.